Line 37:
Line 37:
 

|-

 

|-

 

|style="vertical-align:top"|[[File:Dragon Age Inquisition Trailer - E3 2013 EA Conference|210px]]

 

|style="vertical-align:top"|[[File:Dragon Age Inquisition Trailer - E3 2013 EA Conference|210px]]

−

|style="vertical-align:top"|[[File:Evolve - 4v1 Teaser Trailer|210px]]

+

|style="vertical-align:top"|[[File: - Trailer|210px]]

 

|style="vertical-align:top"|[[File:Assassin's Creed Unity Teaser Trailer|210px]]

 

|style="vertical-align:top"|[[File:Assassin's Creed Unity Teaser Trailer|210px]]

 

|}

 

|}

Line 139:
Line 139:
 

-->[http://darksouls.wikia.com/wiki/User_blog:Pseudobread/Are_these_Project_Beast_screens_from_a_new_Souls_game First Screens From Project Beast Leaked?]<br/><!--

 

-->[http://darksouls.wikia.com/wiki/User_blog:Pseudobread/Are_these_Project_Beast_screens_from_a_new_Souls_game First Screens From Project Beast Leaked?]<br/><!--

 

-->[http://witcher.wikia.com/wiki/The_Witcher_3:_Wild_Hunt Learn all about Wild Hunt]</div>

 

-->[http://witcher.wikia.com/wiki/The_Witcher_3:_Wild_Hunt Learn all about Wild Hunt]</div>

−

|style="vertical-align:top"|<div style="margin-top:-10px">[http://halo.wikia.com/wiki/Halo_5:_Guardians Halo 5: Guardians Officially Announced!]<br/><!--

+

|style="vertical-align:top"|<div style="margin-top:-10px">[http://.wikia.com/wiki/: : !]<br/><!--

 

-->[http://evolve.wikia.com/wiki/Evolve Learn all about Evolve here!]<br/><!--

 

-->[http://evolve.wikia.com/wiki/Evolve Learn all about Evolve here!]<br/><!--

 

-->[http://witcher.wikia.com/wiki/The_Witcher_3:_Wild_Hunt New information about Witcher 3: Wild Hunt]</div>

 

-->[http://witcher.wikia.com/wiki/The_Witcher_3:_Wild_Hunt New information about Witcher 3: Wild Hunt]</div>
---
Revision as of 23:50, 28 May 2014
Wikia E3 2014 Games Hub
Your window into the biggest games and communities of E3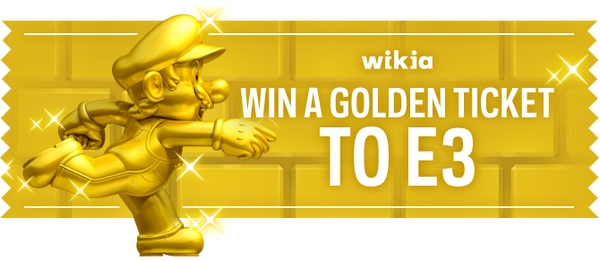 E3 Games and Communities
| | |
| --- | --- |
| | Project Beast |

| | |
| --- | --- |
| | Halo 5 |

| | |
| --- | --- |
| | Uncharted 4 |
| | |
| --- | --- |
| | Dragon Age: Inquisition |

| | |
| --- | --- |
| | Evolve |

| | |
| --- | --- |
| | Assassin's Creed: Unity |
| | |
| --- | --- |
| | Witcher 3: Wild Hunt |

| | |
| --- | --- |
| | Destiny |

| | |
| --- | --- |
| | Shadow of Mordor |
| | | |
| --- | --- | --- |
| Latest RPG Updates | Latest Shooter Updates | Latest Act/Adv Updates |
| | | |
| | |
| --- | --- |
| | Everquest Next |

| | |
| --- | --- |
| | Civilization: Beyond Earth |

| | |
| --- | --- |
| | The Division |
| | |
| --- | --- |
| | Wildstar |

| | |
| --- | --- |
| | World of Tanks |

| | |
| --- | --- |
| | Assassin's Creed: Unity |
| | |
| --- | --- |
| | Elder Scrolls: Online |

| | |
| --- | --- |
| | Dead Island: Epidemic |

| | |
| --- | --- |
| | Metal Gear Solid V: The Phantom Pain |
| | | |
| --- | --- | --- |
| Latest MMO Updates | Latest Strat/MOBA Updates | Latest Sandbox Updates |
| | | |

Only June 09 2014 00:00 PST until E3 2014!
The Wikia E3 Team
Wikia users rockin' it from our booth at E3
E3 Trailers
Today's Fan Poll Results
Does the Xbox One without Kinect make you more likely to buy the console?



<chat />
Community content is available under
CC-BY-SA
unless otherwise noted.