Skullgirls is a downloadable 2D fighting game developed by Lab Zero Games and published by Autumn Games and Konami. It was released on PlayStation Network in North America on April 10, 2012 and on Xbox Live Arcade a day later on April 11, 2012. Its European release was on May 2, 2012. A PC version of the game was released via Steam on August 22, 2013, with all purchases coming with a frequently updated beta version known as the Skullgirls ∞Endless Beta∞.
Plot
Set in Canopy Kingdom, characters are fighting for the opportunity to control the mysterious Skull Heart, an artifact with the ability to grant wishes, albeit at a substantial cost. The Skullgirl is a monster that haunts humanity: the result of those with an impure soul attempting to use the Heart.
Features
Skullgirls features the most frames of animation per character of any fighting game, hand-drawn at high resolution and enhanced by real-time lighting courtesy of a powerful 3D engine
Classic six-button play gives characters a huge variety of attacks and special moves
With the Variable Tag Battle system, players can pit mismatched teams of one, two or three characters against one another
Custom Assists let you outfit your team with a huge variety of attacks for nearly endless strategic possibilities
A robust anti-infinite combo system keeps competitive play free of abusive tactics
Robust tutorials and an AI designed to teach eases new players into the traditionally intimidating fighting game genre and helps you improve from there
Official GGPO netcode ensures lag-free fighting online
A stunning soundtrack by Castlevania: Symphony of the Night composer Michiru Yamane draws you into the game's unique "Dark Deco" world
Media
Images
Videos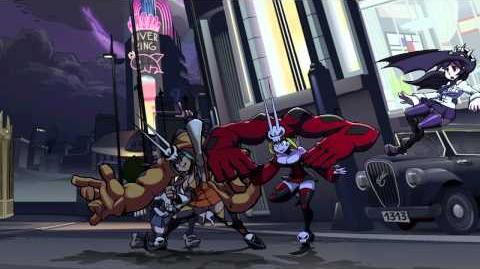 External Links
Community content is available under
CC-BY-SA
unless otherwise noted.