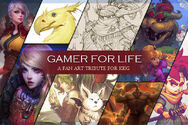 Today I learned about a project that really hits home to me. As an avid gamer and someone who has lost family to cancer, it seemed like the perfect cause to donate to, so of course I did, but I want to do more than that. I want to help spread the word.
The Gamer for Life project is dedicated to Kevin Kenai Griffith (KKG), a Blizzard Entertainment game developer who was diagnosed with stage four Alveloar Soft Part Sarcoma in 2012, a very rare and currently incurable cancer. The project was started by a group of his friends who wanted to do what they could to help. They formed a nonprofit group named Gamers for Good  and decided to create an art book in his name. The book was the result of artists from all over the world, donating a total of 476 art pieces from KKG's 10 favorite games. Their efforts soon spread across the globe, even beyond those that knew Kevin. Unfortunately, Kevin passed away in October of 2014 before the project was complete. 
The group continues to help fund multiple causes but are still asking for donations for the Gamer for Life project. This project has 6 days left and as of today has raised over $44k. The funds will go to Game Changer and CureASPS.org. In return, Gamers for Good are offering donators some pretty cool perks. I for one am looking forward to getting a hard copy of the beautiful art book but there are also other perks available. Please visit their website to see what they are and consider donating to a very worthy cause.  
Gamer For Life: KKG Fan Art Tribute Book
Community content is available under
CC-BY-SA
unless otherwise noted.